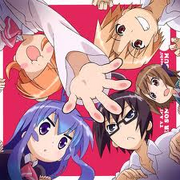 Episode list
No.
Title
Original airdate
01
"Here ⇔ There"

"Atchi ⇔ Kotchi" (あっち⇔こっち)

April 5, 2012
One cold day in winter, Miniwa Tsumiki joins her close friend and crush Otonashi Io to a visit on the Arcade along their friends Katase Mayoi, Haruno Hime and Inui Sakaki.
02
"Delicious Cakes ⇔ Valentine Lipstick"

"Oishii Kēki to ⇔ Barentain Rippu" (美味しいケーキと⇔ばれんたいんリップ)

April 12, 2012

A Part: The group pays a visit to Sakaki's older sister Miiko's Cake Shop, the Hatch Potch, where Io and Sakaki work. B Part: Valentine's Day is on the corner and Tsumiki, Mayoi and Hime assemble to make chocolates for the group.

03
"The Relentless Snowball Fight and Cooking Class (Burn)"

"Mujōnaru Yukigassen VS ⇔ Chōri Jisshū (Moe)" (無情なる雪合戦VS⇔調理実習(燃))

April 19, 2012

Part A: The winter is almost over. The gang divide themselves into two teams and play snowball but Mayoi and Sakaki has some tricks up their sleeves. Part B: Cooking class. In a different team than Io, Tsumiki takes the opportunity to show him her culinary skills.

04
"I Want to Catch ⇔ Donna Donna of Love"

"Tsukamaetai no ⇔ Koi no Dona Dona" (つかまえたいの⇔恋のドナドナ)

April 26, 2012

Part A: Due to a teachers' meeting, afternoon club activities have been cancelled, so Mayoi announces a "Kick the Can" game, for which the students are divided into two teams: hiders and seekers with a special penality for the losing team. Part B: The school radio now turns into a school TV with special guests Io and Sakaki, who have to give advice to problems sent in by girl students.

05
"Attack! ⇔ and Nyanber Nyan!"

"Atakku! ⇔ Nyanbā Nyan!" (アタック!⇔にゃんばーにゃん!)

May 03, 2012

Part A: After the five have discussed some embarrassing details of the physical check-up, they settle on a competitive volley ball match. The losing team has to fight for the most popular lunch items in the school cafeteria. Part B: The five go on a picnic where they decide to play Frisbee before the meal. Io sits apart from the others playing with the many cats that become friendly with him, much to their admiration.

06
"Pool and Shirt and ⇔ Homework"

"Pūru to Y-Shatsu to ⇔ Shukudai" (プールとYシャツと⇔宿題)

May 10, 2012

Part A: It's time for summer uniforms and the students are assigned to pool cleaning. It does not take long for them to make some mess of it. Part B: The afternoon before the test, Mayoi suggests a study group meeting in Io's house. Sakaki cannot go because he has a shift in Hatch Potch, so it is Io and the three girls. After the test, the weather turns rainy and there are fewer umbrellas than needed.

07
"It's the Mountains! It's a River! ⇔ Barbecue!"

"Yama da! Kawa da! ⇔ Bābekyū!" (山だ!川だ!⇔バーベキュー!)

May 17, 2012
Although summer homework is still waiting for them to finish, except for Io, the five decide to take a train trip to a mountain resort.
08
"Summer Homework ⇔ Summer Festival"

"Shukudai no Natsu ⇔ Matsuri no Natsu" (宿題の夏⇔祭りの夏)

May 24, 2012

Part A: The girls decide to pay a visit to Io's place as Tsumiki's air conditioner gets broken. However, Mayoi and Sakaki are still held by the task of finishing up their homework, and urges the others to not worry about them and have some fun by themselves, despite their behavior says otherwise. Part B: The gang attends the summer festival together, facing several humorous situations as they try some of its attractions.

09
"Dress Me Up! ⇔ The School Festival of Love and Romance"

"Watashi o Tsutsunde! ⇔ Koi to Roman no Gakuensai" (ワタシを包んで!⇔恋とロマンの学園祭)

May 31, 2012
The time comes for the school festival and the five decide to mount a crêpe stand (named "つつみん!" meaning something like "I wrapped") together, which turns out to be a great success. Io serves as the cook but also sews Tsumiki's mascot uniform by hand, and promises the first crêpe to her. Mayoi wears no lab coat over her waitress uniform.
10
"Bear Encounter ⇔ Lovelymas"

"Kuma Enkaunto ⇔ Raburimasu" (くまエンカウント⇔ラブリマス)

June 7, 2012

Part A: Mayoi buys a bear costume for cheap and decides to put it to use by scaring as many people as she can. Part B: Mayoi is planning to have a party on Christmas Eve but has to put it off to Christmas Day as Hime and Io promised to work in Hatch Potch. She and Tsumiki also stand in to help Io sell Christmas cakes in front of the shop.
Community content is available under
CC-BY-SA
unless otherwise noted.